Our Bathroom Remodels in Houston, Katy, Memorial, & West University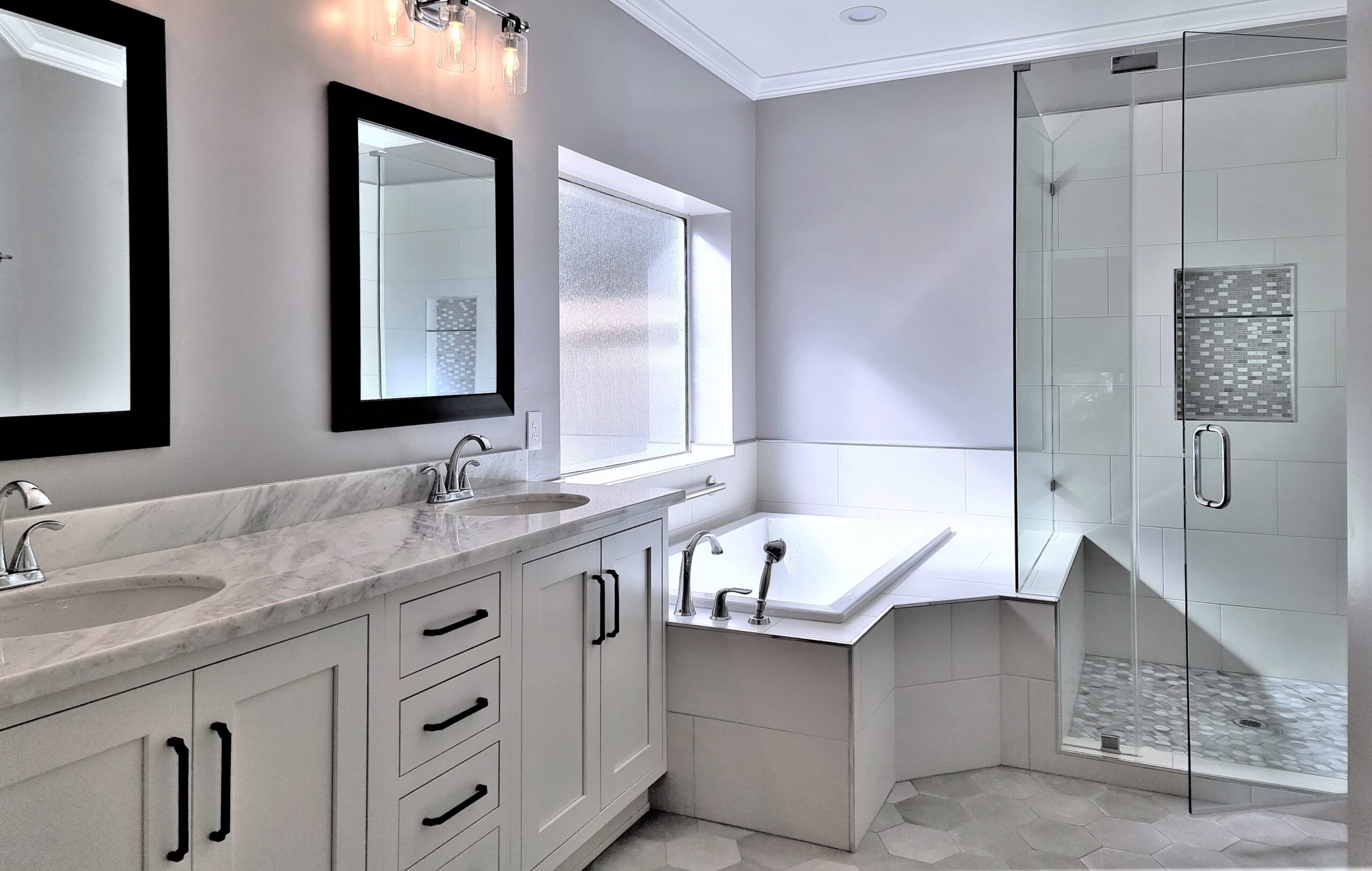 Your bathroom should be a place you LOVE. If your current bathroom is too small, out of style, or a non-functional mess, you might want to consider a full remodel of your bathroom, particularly if you plan to stay in your home for the long term. On the other hand, if there are certain pieces of your bathroom you want to keep, or if you plan on selling your home within a few years and won't reap the benefits of a total remodel, a partial bath remodel could work better.
At Simplicity, we serve both of these needs very well.
Our Design-Build Approach
The biggest differences between contractors are often found in their ability to organize and manage these projects.
Bathroom remodels start with project planning, design, and selections. Even a small guest or powder bath remodel has many moving parts, and often involves at least a half dozen distinct trades, or more. To avoid your bath remodel dragging on for six months or longer, your entire project should be fully planned, selected, ordered, and received, with every single piece ready to go, before any work starts.
This approach makes the most sense in all but very rare cases, but a significant amount of residential remodeling work is not performed this way; instead, projects like these are often started hastily, and pieces are filled in as work progresses. This is a recipe for a much more stressful and drawn-out project, as many Houston homeowners (who hired the wrong contractor) can attest.
With Simplicity, our careful approach to building bathrooms is modeled on "design-build" principles. All details will be decided before your job reaches the build phase, which eliminates ambiguity AND builder-issued change orders due to an unclear scope of work. This approach may take a little longer and involve a few more guided decisions, but it gives you a rock-solid understanding of what is going to be built before anyone shows up to swing the first (sledge) hammer on your bath remodel.
In short, design-build is all about working with consummate professionals from the very beginning, so you can avoid the hassles and pitfalls common to this type of project.
Work With Experts + Avoid Sales Hassles
Our clients often tell us they appreciate our expertise, thoroughness, and attention to detail. This is what you should expect when you hire professionals.
This starts even before we meet and begin planning your project. Our company owner begins every client relationship with an honest, open conversation about what you'd like to accomplish, and how we can help you get there. We understand that budget is always important, so we share average pricing, along with timelines and other helpful info, right from our first call. If we aren't a good fit, you won't have to sit through an in-home meeting, and we just saved you a ton of time! This is how all remodeling should work in the 2020s.
With our guidance and budget planning, you won't get bogged down with selections paralysis, or end up down a rabbit hole with an overdesigned project that blows up your budget.
We'll walk you step by step through the design process, from initial concepts to a build-ready project, to make sure your new bathroom meets your taste and style, and is in within financial reason. You are the ultimate the decision-maker, and you get to decide what works!
Bathroom Remodels: Price Vs. Scope
Some of our clients want fancy, while others want simple, with a few added touches. Others need only a functional bathroom or shower that's built to last. Regardless of scope, our goal is to help you achieve what you're after.
Your initial personal planning and budgeting are critical to success! As the saying goes, it's better to do a little bit right, than a whole lot wrong. If you find out you want a larger project than you've budgeted for, we'll help you scale back on scope and materials, or we can discuss financing options.
We usually do not recommend the DIY approach. Many clients have told us that getting their bathroom done right was extremely important to them, and that for the sake of their happiness and continued marital bliss, it was worth the investment to hire the right people to build what they wanted, even if it meant doing a smaller overall project.
Pull-and-replace bath remodels start at $25,000 for small bathrooms with a single wet area and sink. Custom batm remodels start at $40,000 for the same size space, and are planned and built under our Design Build program. Final bathroom costs depend on scope, square footage, and selections choices. For more general information on pricing, see our Pricing Guide.