We Are Houston's Premier Tub-to-Shower Conversion Experts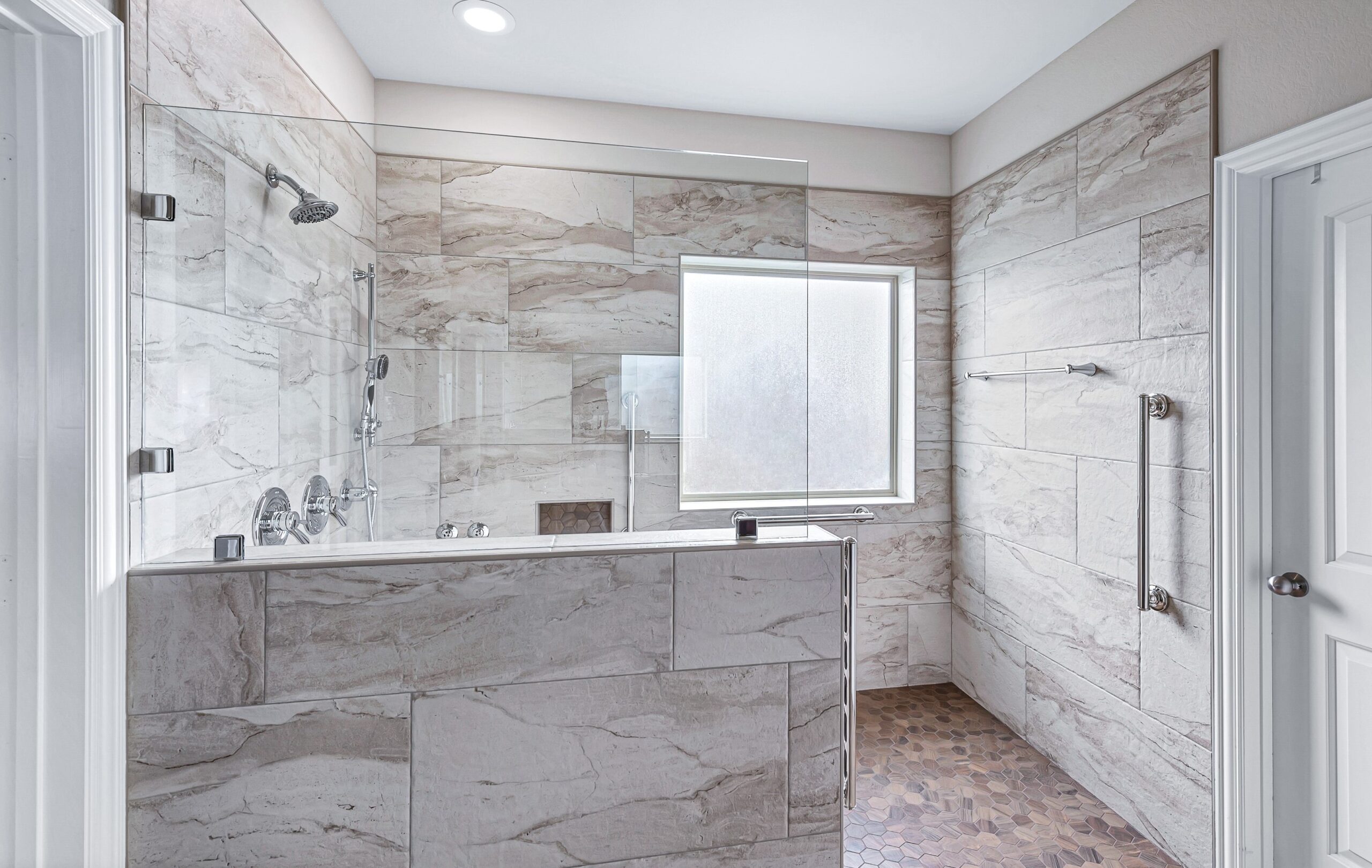 A tub-to-shower conversion can provide a roomier and more accessible bathing experience for you, your children, or an elderly relative. It's also a great way give your bathroom an instant makeover. However, replacing an old bathtub with a new shower is a job that needs to be done with proper waterproofing and building techniques.
At Simplicity Bath, our professionals will turn your old, "blah" bath into a new, WOW shower that is beautiful, functional, and well-built, so you won't have to pay for this project more than once. We offer turn-key tub to shower conversions and remodeling throughout the Houston area.
We Build Leak-Free Showers With Tile & Other Materials
As a truly custom shower builder, we offer several product choices for your shower conversion, which you can view in more detail here.
Unlike many other bath contractors, we are not artificially "hitched" to one brand or product through either dealer or franchise agreements, or a lack of installation knowledge. This is a real thing; homeowners shopping for a shower conversion in Houston are often given only the choice of "standard" tile – which is often installed improperly by poorly-trained tile setters – or thin, plastic acrylic walls (or similar items) which are aggressively peddled as "space-age polymers" or "co-polymers" by one-day bath companies.
Rather than taking this approach, at Simplicity, our goal is to educate and inform so you can understand what is possible, and then make the best choice for your unique project, while having confidence that your bath will be built properly, to high standards.
In keeping with this, we offer TCNA-compliant, fully-waterproof tile work using the German-engineered Schluter-Kerdi waterproofing system (as seen in the photo to the right), as well as robust solid surface products from The Onyx Collection. We can even build with a combination of tile and solid surface, as in the "Before and After" pictures, below. Our Onyx Collection and Schluter-Kerdi systems each include a lifetime guarantee from the manufacturer. Finally, we also offer thin stone slab walls for high luxury projects.
As you can see in our Gallery section, we do build a significant amount of showers and tub-to-shower conversions with tile. It's important to note that these tile showers are built and tested carefully. Contrary to what you may have heard, it IS possible to have beautiful, leak-free tile for your shower walls and floor – and we've been doing it since 2014. Your results will, of course, depend on who you hire.
Tile does have its "proclivities" that you should be aware of. Here are a few:
Tile will require more installation time than slab products, typically 1.5 – 2x.
Tile failures can and do happen, which is why tile work must be built by properly-skilled tile setters, then tested to ensure waterproofing integrity.
Tile has grout. You can choose a high-end grout that doesn't require sealing, or go with a standard grout and re-seal it as often as necessary. High end grouts are harder to install, but far easier to clean and more color-fast for the long term.
Tile is artisan work that requires more skill to install properly than pre-fabricated shower products, so it comes with a higher price tag.
Once you understand these things, tile doesn't need to be a scary proposition. It simply needs to be waterproofed and set properly. We'll gladly go into all of these things in more detail as we build out your project, to ensure that what you choose will be the right fit for your situation.
Expansive Possibilities to Increase Your Shower Enjoyment
If you're looking to enlarge and expand your current master bath shower by combining it's footprint with that of an adjacent tub, we will be happy to create one HUGE shower experience for you. We love these gigantic shower projects! Despite some understandable pre-purchase concerns about resale value without a tub, and the shower possibly being "too big," we've never had a homeowner be anything but thrilled with the final product. If a big shower is your number one concern, it may be worth it for you to consider investing in this thoroughly-rewarding project for your master bath. Pricing for these large, luxury showers starts at $25,000 and can go over $50,000, depending on the exact size and options chosen. The headline photo at the top of this page is an example of one of these projects we built in 2020.
However, if a huge shower conversion is out of the question due to budget or the need to maintain a tub in the master bath, or, if you'd just like to open up and expand an existing "cave" or "phone booth" shower beyond its current footprint, without removing an adjacent tub, we have solutions for this, as well. Sometimes, we can remove walls or fir-downs to provide a more "open" feeling; other times, there's room to bring the shower out towards the entrance, rather than making it larger in width.
For all custom shower remodels and tub-to-shower conversions, we offer built-from-scratch solutions to enlarge, update, and transform your current problem area into a shower that is AMAZING!
Tub-to-Shower Conversion Process
To get started, please text or email pictures of your current bath or shower setup, and then give us a call at 832-464-7251. We'll spend some time discussing your expectations and requirements for the project, and learn what's most important to you, so we can offer proper guidance. We'll provide straightforward price ranges and go over any concerns you may have, to ensure we're a good fit for your project. Once you approve the initial scope of work, we'll firm up your design and selections, collect your deposit, and get you on our schedule.
Once you're on our schedule, we begin the significant back-end planning that's required to make this project come to life in your home. As you might have guessed, there's a lot more to a proper tub-to-shower conversion than what you see on HGTV and the "One-Day-Bath" infomercials. Rest assured, once the project begins, our team will show up prepared with dust control and flooring protection measures ready to be put in place. Throughout the process, we will treat your home with respect and deliver on what we promise, making any adjustments as needed.
Here's our construction process, in brief:
We begin by removing your old tub or shower area back to the studs, using clean, dust-conscious work practices. We do a full shower tear-out on every job so we can ensure there are no framing, pest, mold, or plumbing issues before we begin to rebuild with our high-quality materials.
We'll check the layout and condition of the existing pipes and plumbing. If needed, we'll conduct repairs or replace them. Our focus is always on building your new shower without the need for extensive reworking, where possible. As part of our plumbing work, we'll upgrade you to a pressure-balancing shower valve that helps control temperature fluctuations, and then test all connections.
We will prep the shower walls and floor, and then install TCNA-compliant waterproofing for your chosen shower system.
We build your shower according to industry best practices, NOT industry standard practices, so that the final product exceeds code guidelines, and will remain beautiful and functional for as long as you live in your home.
We'll review the work at completion, make any adjustments or touch-ups you require, and "hand over the keys" once it's completely finished.
Specialized Solutions for Safety
If safety is the most important aspect of your shower remodel, we've got you covered. We have worked with hundreds of very happy senior citizens and mobility-impaired individuals, and their caretakers, who engaged with us to satisfy their very specific safety and access requirements for a tub-to-shower conversion. Getting the details right is critical, and it often takes time and thought to achieve the right solution. We're happy to think "outside the box" to help you get there, and, as a design-build bathroom company, we do not limit our clients to "off the shelf" solutions.
We also understand that beauty is important. Most of our clients are not just satisfied with "safe" – your new daily-use shower needs to look like it belongs in, and adds value to, your home. In keeping with this, we are proud to have built some very attractive walk-in showers and handicapped-accessible showers over the years. In order to accomplish both beauty and function, we will need to walk through and lay out the details of the project in your home, showing you samples of products and providing recommendations based on ADA guidelines and/or your unique situation and needs. Your options can include widening doors and entry-ways, showers with low-height or "zero" thresholds, adding grab bars, moving or adding plumbing features, and installing custom shower seats that are convenient to faucet controls, soap niches, and handrails.
In short, when you call us about your project, expect straightforward advice and recommendations, rather than fluff and sales talk. We know seniors need solutions, not sales pitches, and we can help. Spend as long as you'd like checking out our website and reviews, then give us a call at 832-464-7251 to get started.
We look forward to the opportunity to work with you. If you'd like to know if we serve your area, simply give us a call. In general, our service footprint covers most of Greater Houston, including Katy, Richmond, Cypress, Magnolia, Energy Corridor, Memorial, and Inside the Loop.